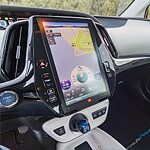 The Toyota Prius comes with a variety of quality interior features that you are likely going to enjoy. For example, there are three USB ports inside of the vehicle that make it easy to keep your phone, tablet or laptop charged when driving in Freehold.
This can help to ensure that your phone doesn't turn off before you receive an important phone call from your boss. Having a fully charged tablet or laptop ensures that your kids have games to play or other apps to use while on a long road trip.
A head up display allows you to keep track of information such as how fast the car is traveling without glancing away from the road. You'll also know what direction you're traveling as well as how much gas is left in the tank. Feel free to visit DCH Freehold Toyota today to test drive a Prius.