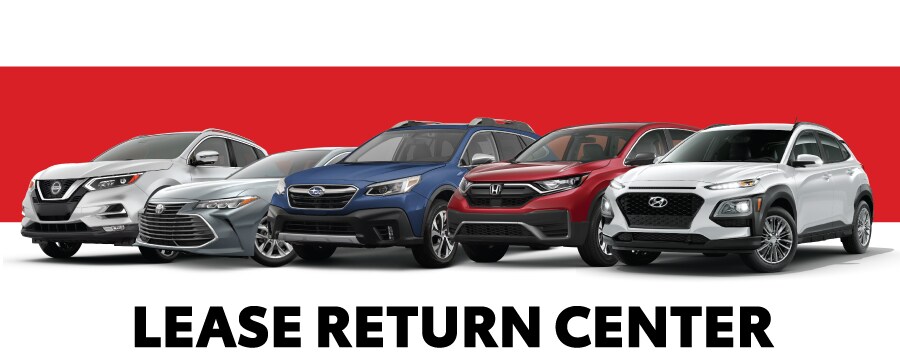 Schedule Your Lease Return
* Indicates a required field
APPROACHING THE END OF YOUR LEASE?
Now that your lease is almost up, you may be wondering what's next. It's a good idea to start thinking about your lease-end choices, especially if you have 6 months or less remaining in your lease. With most leases you generally have four options:
Option 1: Return your vehicle and lease a new one from DCH Freehold Toyota.
This option is convenient, easy, and best of all, you get to drive off in a brand new Toyota.  DCH Freehold Toyota will be happy to show you the latest models and discuss your options. Browsing our selection of New, Certified Pre-Owned, and Pre-Owned Vehicles is a great place to start. You can also visit our Specials section for more information about our current lease and purchase offers. Feel free to call us at (866) 413-2631 for more information.
Option 2: Return your leased vehicle to DCH Freehold Toyota.
Return your leased vehicle to the dealer. Here are some steps you will need to take if you choose this option:
Two months prior to lease-end: During the last two months of your lease term, arrange for a free vehicle inspection to evaluate wear and use and related charges, if any. Having the inspection done well in advance of returning your vehicle allows you to be present for the inspection and gives you time to take care of any needed repairs. You will receive a Vehicle Inspection Report following the inspection. Read more about Lease-End Inspection and Wear and Use Guidelines.
One week prior to lease-end: Arrange an appointment to turn in your vehicle to DCH Freehold Toyota. Begin to assemble the materials listed below.
At lease-end: At the appointed time, deliver your vehicle in clean condition to DCH Freehold Toyota. Please bring the following items with you:
All keys to the leased vehicle
Owner's manual and maintenance records
Vehicle Return Receipt & Odometer Disclosure Statement
Vehicle Inspection Report
After you turn in your vehicle:
If all payments have been made, your call will prompt the completion process for your account, and you will no longer receive monthly statements.
If you have payments remaining on your account, it is still your responsibility to ensure that they are made.
If any end-of-term liabilities apply, they will be billed at a later time.
Option 3: Purchase your leased vehicle from DCH Freehold Toyota.
Buying your leased vehicle is a great way to continue benefiting from its reliability, performance, and high resale value. If you decide to buy your vehicle, there is no need to have it inspected, since there are no excess wear and use or excess mileage charges to worry about. Feel free to call us at (866) 413-2631 for more information about purchasing your lease.
To find out your purchase amount, you can get a payoff from your financial institution.
Attractive financing rates may be available for lessees who wish to purchase a leased vehicle. Contact DCH Freehold Toyota for details about our Lease to Retail Rollover program.
Option 4: Extend your lease from DCH Freehold Toyota.
If you're interested in keeping your leased vehicle a little longer, or you just want to wait for a new Toyota to come in, well consider extending your current lease. You can, in most cases, extend your lease for one or more months at the same monthly payment. DCH Freehold Toyota can provide details about extending a lease. We invite you to check out our new Toyota inventory - as there might be something that catches your eye! We take pride in maintaining a diverse inventory of new Toyota near Howell, Old Bridge, Englishtown and Matawan, as well as within an hour of New York City and Philadelphia.
For more help please contact the Internet Sales Department at
(866) 413-2631


Hours
Monday

9:00am - 8:00pm

Tuesday

9:00am - 8:00pm

Wednesday

9:00am - 8:00pm

Thursday

9:00am - 8:00pm

Friday

9:00am - 8:00pm

Saturday

9:00am - 6:00pm

Sunday

Closed